Home Welcome to Shaftsbury A Visit to Our Sister City: From Shaftsbury to ShaftEsbury
---
---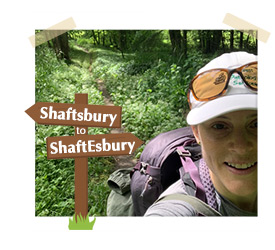 A Visit to Our Sister City: From Shaftsbury to ShaftEsbury - by: Sarah McCarthy

- About the Author:
Sarah was a former resident of Shaftsbury. She was born and raised in our town. It was so thoughtful of her to share her traveling experience with us. We feel honored. Thank you so much Sarah.
- The Town of Shaftsbury
I was born and raised in Shaftsbury, Vermont. It's a place of beautiful landscapes and wonderful people. Thanks to my father's involvement in town government, I was introduced to several residents of our sister city, Shaftesbury, Dorset. Located in England it is a town more than double the size of ours, but the landscape and people were just as nice.