---
Shaftsbury Country Store to Open by Thanksgiving
Posted: November 7, 2023
SHAFTSBURY - A long-shuttered community hub on Route 7A in Shaftsbury is set to reopen as a community store and possible venue by Thanksgiving.
The Shaftsbury Country Store is currently stocking the shelves, painting, and completing the finishing touches before opening its doors to the public sometime around the Thanksgiving holiday weekend if all goes well.
"Oh man, this is really, really overwhelming," said co-owner Michael Williams, who bought the building several months ago with his wife and well-known Bennington Realtor Lilli West-Williams. "I mean, people are so excited. I'm painting the front door and trying to do it with the door shut because people are slowing down, honking, and wanting to see what's happening. "It's overwhelming."
Williams says the plan is to offer breakfast and lunch to-go, plus groceries, a possible butcher shop, local products, drinks, beer, and some good, authentic Alabama-style BBQ. There are even plans to set up a wildlife check-in station and maybe sell fishing supplies, minnows and worms at some point.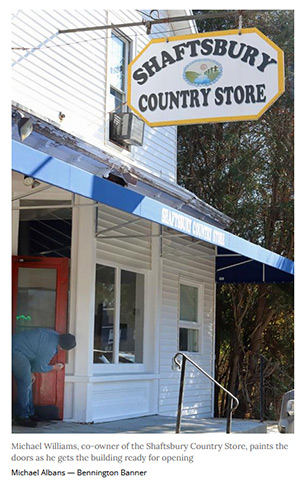 "I know we got all the lakes around here, and fishing is a big attraction right now," Williams says. "We just bought a wood smoker from down south. I drove down to Guntersville, Alabama, and got it. I can't wait."
Williams says they plan to run the smoker and try to have the food already prepared so people can get in and out quickly.
"That way, you don't have to wait for nobody to cook," Williams says. "It speeds up the process. Breakfast and lunch, and in the evening. We'll probably close the kitchen down at some point, but we'll have leftover BBQ in the evening."
Williams and his wife, Lilli, the owner of Maple Leaf Realty, bought the building late last year. A fixture in Shaftsbury for decades and a center hub of all things Shaftsbury before it closed about six years ago, the building has been vacant ever since. Williams' mother, Marlene Knapp Camp, who will be returning to the area "to help get it up and running," is the sister of Martin "Marty" Harrington.
Harrington and his wife Millie operated the store and a butcher shop at the site from the 1960s to the 1980s. The most recent store operation opened in 2016 but closed several months later. The store was closed from 2014 to 2016. The building itself dates back to the early 20th century.
Williams says as of now, they plan to be open Monday through Saturday.
"It's our first store. We're just diving into this and this to be really honest with you. Lilli wants this for the community. I know the community wants it, and she's part of that community. She's really big into the community. She's been here for 20 years. My mom's from here, and my dad's from Cambridge. A lot of the older people stop in, and a couple of others just come out and ask if they could still hang out here like they used to. That's what I mean by overwhelming," Williams said with a laugh.
The new owners have had to get the fire system upgraded with the sprinkler systems and gear, and have even addressed some of the parking issues along Route 7A and the intersection with Buck Hill Road. The couple has worked with neighbors and the town to solve the parking issues and just recently purchased an adjoining property in the back. They plan to use it for additional parking and also a possible venue for live music and events.
"The owners across the road are going to let us park in his parking lot, six or seven cars over there. We've got parking in the front and some additional parking in the back of the town office. I don't know how big of a secret it's supposed to be, but they're doing a ribbon cutting next week for the property out back. We want to make that an outdoor venue. I think we're going to have events and stuff, with a sidewalk from it to the store."
Williams says that, although they are a bit overwhelmed, they are excited by the attention and the possibilities for their new business venture.
"I'm excited. I'm making the time to get it done. We're really not far away. I've been dressing on it. It's just putting the final lipstick on."
There is no definite date for the store's grand opening yet.
Compliments of:
The Bennington Banner
Posted/Author: Mike Albans
---